Singapore is an island, you would think, it's surrounded by great, white-sand beaches. Not really. there are very few beaches for swimming here. In fact, there are only about 3 (Sentosa, East Coast and Changi). All of them are man-made. Even so, very few people swim in these beaches at all. Unless you count the caucasians tanning themselves, but never really dipping in the waters.
sentosa island from mybataan.com
Most Singaporean residents, when they want real beach, they head-off to Phuket or Bali, which are just an hour or less by plane, or Bintan, Indonesia, an hour or so by ferry.
Bintan belongs to the archipelago of the Riau Islands. Indonesia is promoting Bintan as the next best tourist destination after Bali.
powdery white sand of Bintan
I've been to Bintan two years ago for training, courtesy of my generous Nu Skin family. This time, I decided to bring my family so they can enjoy real beach.
From Tanah Merah Ferry Terminal, tickets to Bintan costs about 65 SGD round-trip. Don't forget to bring your passport! There's a small duty-free shop at the departure lounge for all your alcohol needs. We even brought along our own chips and drinks. Everything is pricey in Bintan, and there are no big supermarkets. Otherwise, we would be forced to consume the hotel room's snacks, price is more than double! Plus, they use Singaporean currency in Bintan!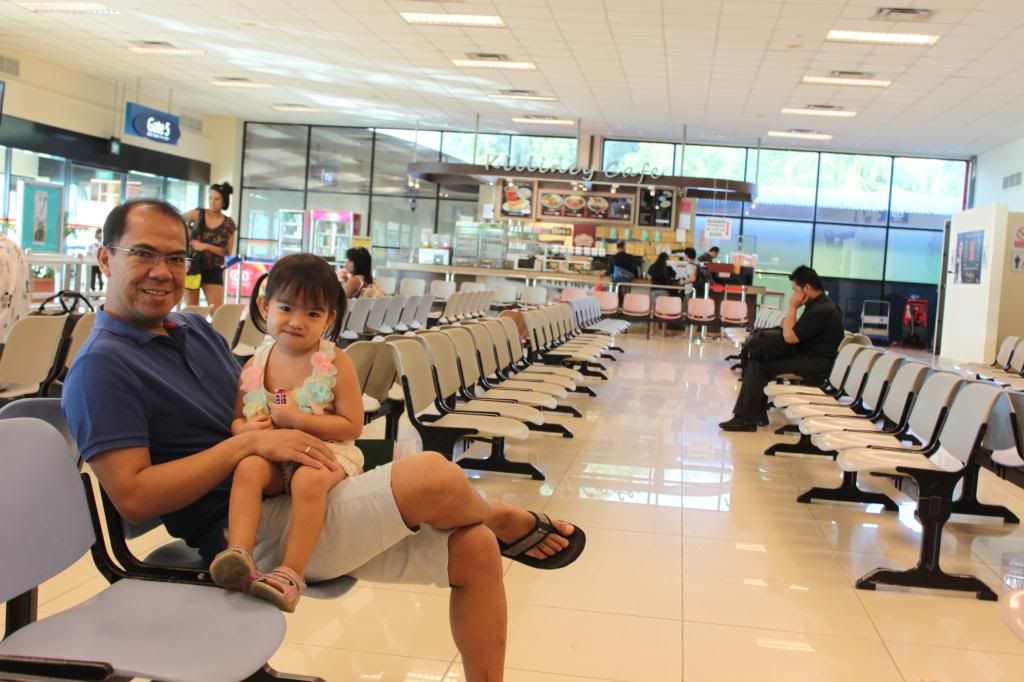 father & daughter at the ferry departure lounge
The hour-long trip is via catamaran across the Singapore Strait. The destination is the Bintan Jetty Port. As soon as you pass through immigration, there are buses/ vans, which resorts normally sent to pick-up guests.
It is advisable to book one's accommodation, before going to Bintan. I haven't seen any public transport. Mostly vans and coasters of hotels. There are car rentals that must be booked, as well.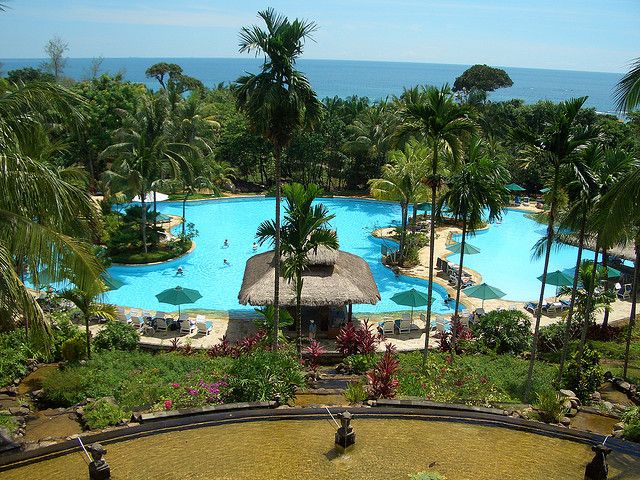 Bintan Lagoon Resort
I reserved two nights stay at Bintan Lagoon Resort. It's the only resort in Bintan, with it's own ferry that docks directly to their own port. They have their own immigration services, exclusive for the resort's guests.
Main Hotel of Bintan Lagoon
This is our lovely room, which has a nice view of the grounds, and a bit farther, the sea.
There are so many activities for the family at the resort, but first on our agenda, the Beach!
The waves are a bit strong that day, because it was raining earlier & the day before. But no matter, the sands were spectacular.
The kids NEVER want to leave, but I was concerned they're getting too much sun. We moved to the pool area, which offers some shade.
While the kids and their father were frolicking in the pool. I sneaked out to these lovely beachside cabanas, for some rub-down by these charming Indonesian ladies.
Aahh.... Bliss ;)) Food is not so much to gush over. They have 12 restaurants in the resort. During our stay, we would try about 4 of them. My favorite was the Japanese Miyako Restaurant, where we had our 1st night dinner. The Orzo, Italian restaurant has cozy & intimate ambience. I was embarassed with my noisy kids while the other diners are honeymooners. :( But the staff were kind and pretended that dropping of cutlery was normal occurrence.
The next day, my husband was dreaming of the two 18-hole championship golf courses. The Jack Nicklaus Sea View course and Ian Baker-Finch Woodlands course. Well, it remained just a Dream.
We instead, took the kids biking around the huge resort (750 acres). It's been awhile since I did some biking (outside the gym) :) and I was quite wobbly on the two-wheels. But I don't want to disappoint my Ivan, who thinks I can do everything :) Hans, is a bit cocky, since he can already bike on this own.
Hay... so this is where the privileged Singaporeans & Indonesians seclude themselves!
For late lunch, I decided to take them to Pasar Oleh-Oleh (pasar "market" and oleh-oleh "gifts) It's a 30mins drive, small cluster of huts, with shops selling Balinese souvenir items, restaurants with local cuisine. It's very touristy, and not advisable to shop. Better go to Bali, if you want similar items. But the local restos, is a nice change from hotel food.
When we went back, the boys headed for the pools again, while Rania and I lazed and napped in the room. :))
Before diner, we walked around the beachfront again... savoring the last rays of the sun. Like Singapore, sunset in Bintan is about 7-715pm.... plenty of things to do before feeling the need to hit the sack.
If you are the type of person who prefers quiet getaway, with none of the hustle and bustle of tourists sightseeing. Bintan is actually a good escape. Albeit, pricey. I don't think, we can afford go back in the soonest time, unless free :)) It was a good experience though. Cheaper than going home to Manila, then flying to Boracay, or Palawan or Cebu. But of course, nothing beats our own places.